DASH
AMERIKAN
design influences
Our group drew from a few points of inspiration in considering what form our research on the media ecology of the Kardashians would take. Early in our project development, we surveyed digital humanities scholarship we encountered and admired in the past, including essays using online platforms such as Scaler, Digital Humanities Quarterly, and Vectors. The experimental techniques we found allowed us to take some risks of our own, specifically pursuing an interest in projects from popular culture. In particular, we took an extended look at a digital essay by Will Self, entitled "Kafka's Wound," that offers a dynamic and surprising look at Franz Kafka's short story "The Country Doctor" (originally published as Ein Landarzt in 1917).
Our group sought to emulate the essay, in part, because of its use of "Side-note icons," or image buttons in the margin of the text that revealed additional, multimedia content. Our team referred to the icons as the author's "design element of surprise," and sought to emulate it with our own kiss icons that are linked to asides that explore some aspect of the Kardashians' presence in contemporary American culture. Alongside "Kafka's Wound," we also took a close look at an essay by Carrie Battan and Glenford Nunez, entitled "Mind Control," devoted to the singer, songwriter, actress, and model Janelle Monáe that appeared in the online music magazine Pitchfork. The essay's polished look and the creators' novel approach to the scrollbar—where navigating up and down makes different visual fields appear, disappear, and produce various effects—pushed our team to design a website that could pass just as easily as promotional content for the Kardashians as it could a piece of scholarly writing.
The most formative influence on the design of our project, however, was the layout of the DASH boutique website: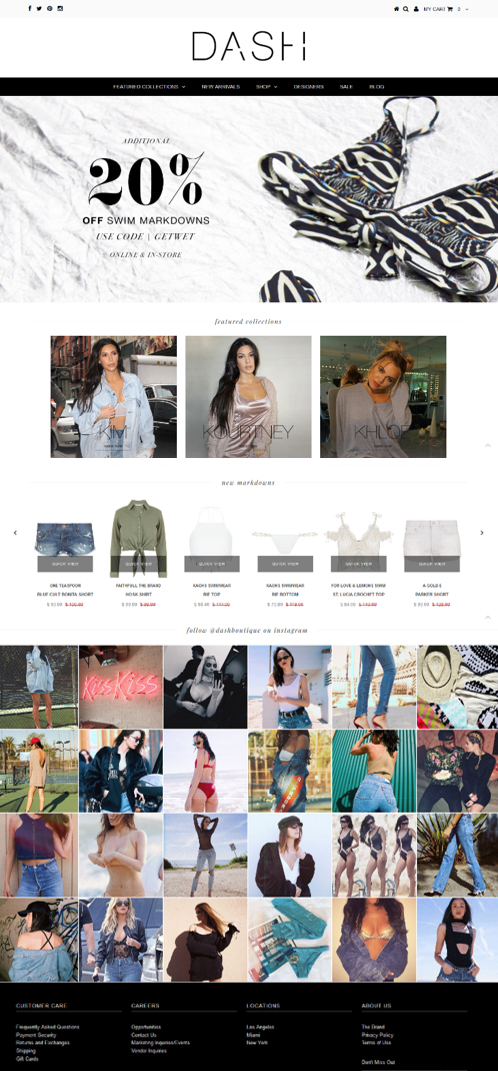 Our team studied the DASH website, in detail, as well as the brick and mortar stores in West Hollywood and Miami, in detail, in an attempt to pick out their representative features. In the course of our analysis, we came to realize that some of its most distinctive elements are typographic (and are represented, below): the iconic DASH logo; the text within the navigation bar; the division of the site into italicized "featured collections"; and the stark footer with white text on a black background: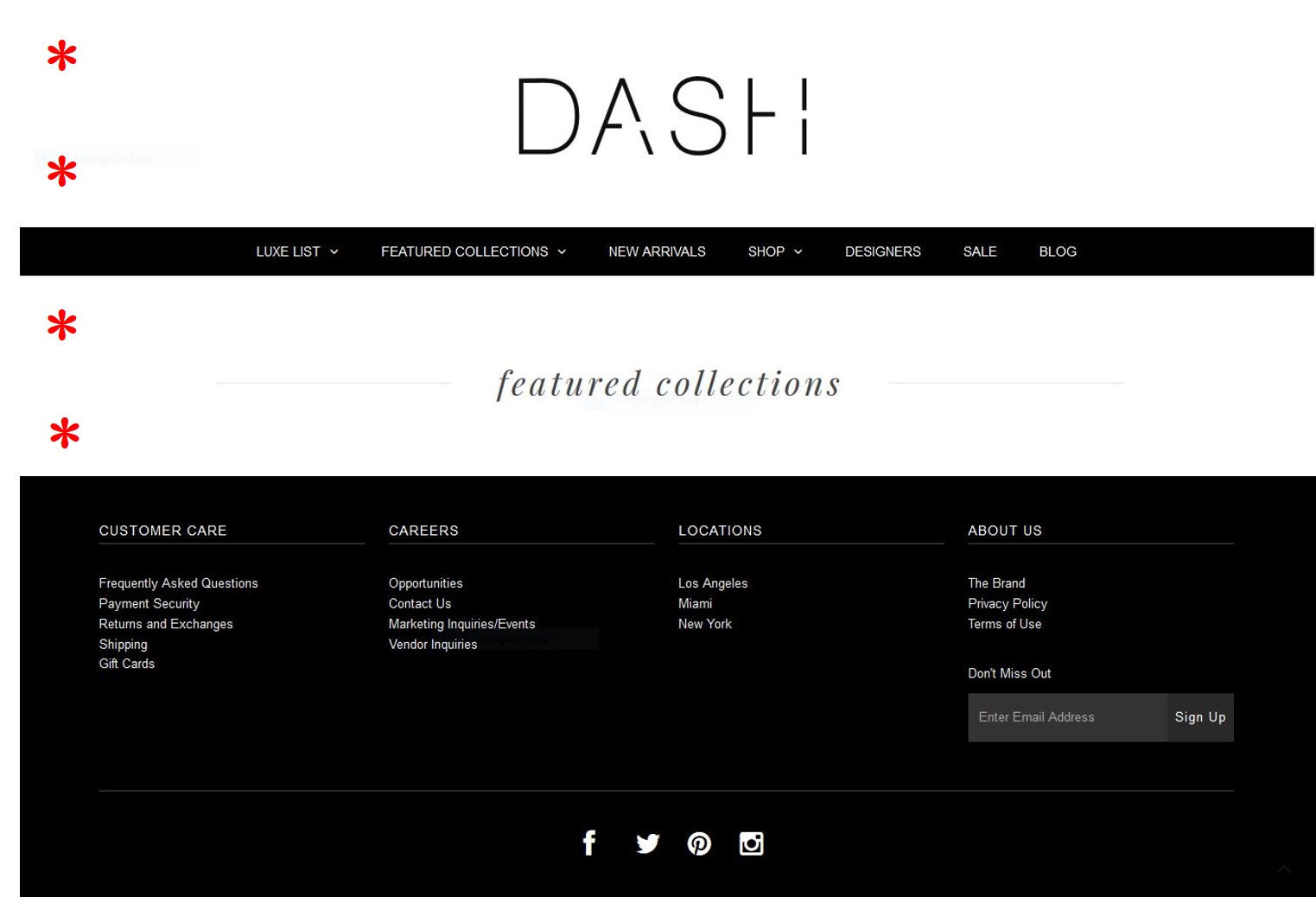 Other elements are visual, and involve image buttons that lead deeper into the DASH site. In most cases, these elements are highly modular and appear either as a grid, a row of images, or a rectangular pop-up window that lays on top of the previous content. The cropping (mostly square) and editing of these images (soft and warm) gives the site an aesthetic similar to Instagram, which we also tried to imitate through our own set of curated images: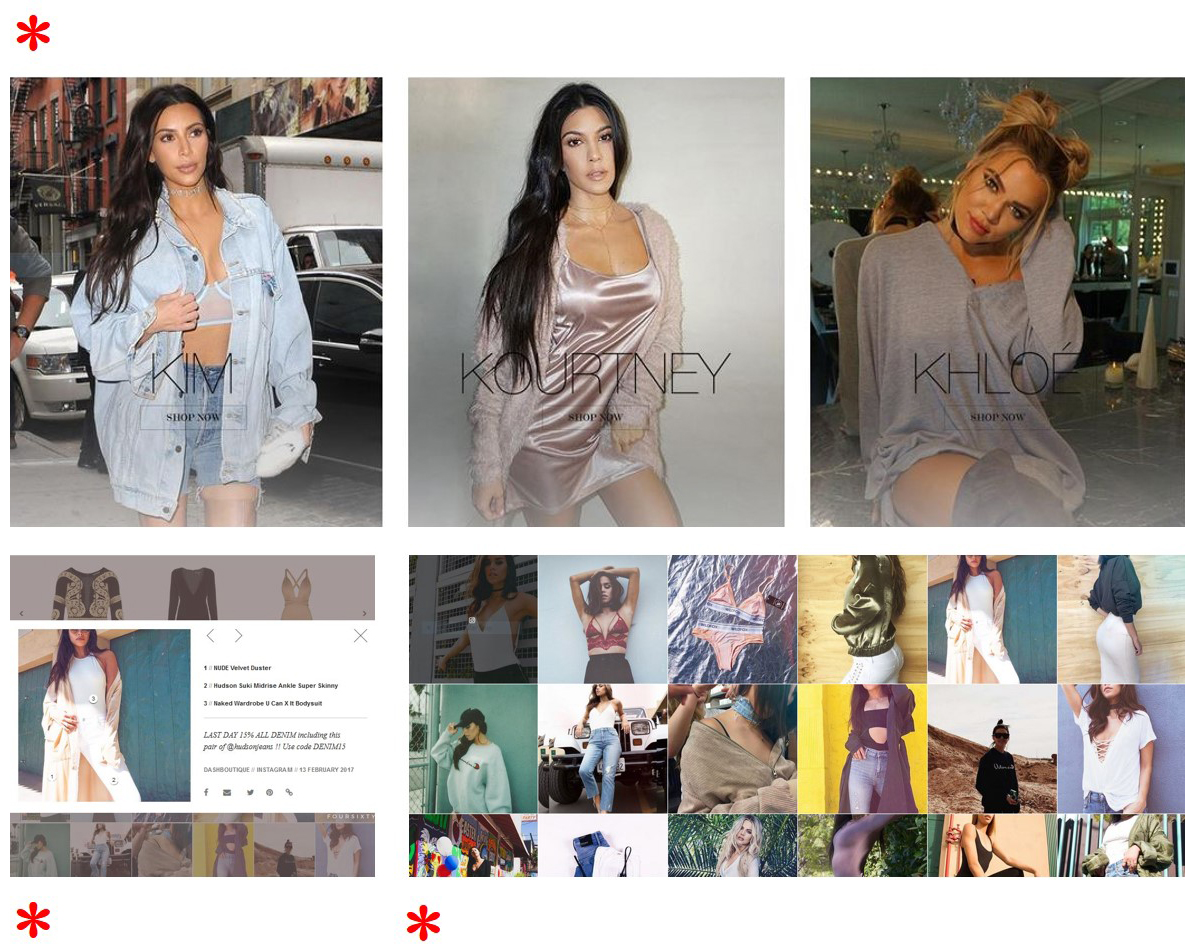 The decision to model the design of our essay after the DASH website is an important aspect of our project, since it shows that we are not merely commenting on the Kardashians, but also being incorporated into the digital pathways around them). As suggested, previously, one of our goals in remaking the DASH website on a server hosted by the University of Virginia is to express, in images, that we are far from disinterested in the Kardashians—in fact, our interest is prolonged, active, and searching. Our facsimile gestures to the fact that we are consumers of the Kardashians, like everyone else, and also our desire to "sell" this project to skeptics who are willing to dismiss the Kardashians as vapid or narcissistic, only. With detractors in mind, we treat the production value of our site as a form of persuasive speech (though, admittedly, one that may not be attractive to those we'd like to reach). As a result, we risk a mild "distancing affect" in our intended audience with the hope that every moment they spend on this site will be the most time they've spent thinking about the Kardashians and their impact on American culture.